JBC C250 Soldering Tips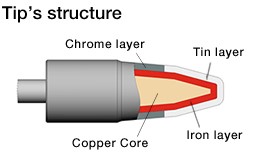 The C250 cartridges have been specially designed to work with AL250 Auto-Feed iron. These cartridges can be aligned using the anti-rotation screw incorporated on the tool.
These tips are used by the nano soldering tools
of the soldering stations
Could not find the right soldering tip?
We will order any soldering tip from the JBC portfolio for you. Click here to see the entire range of JBC C250 cartridges.