JBC C470 Soldering Tips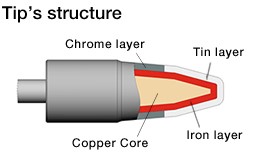 The C470 cartridges are the largest ones of the JBC range. This range features many shapes, sizes and special models. Due to their size, these cartridges are appropriate for intensive soldering purposes and they are perfect for both SMD and applications with high power requirements.
These tips are used by the nano soldering tools
of the soldering stations
Could not find the right soldering tip?
We will order any soldering tip from the JBC portfolio for you. Click here to see the entire range of JBC C470 cartridges.