Siglent SDS1000CML+ Oscilloscopes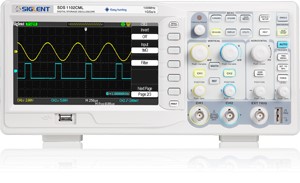 The Siglent SDS1000CML+ oscilloscopes are entry level-devices at affordable pricing without compromising on quality. The low pricing level results from the large amount of units sold as well as substantial economies.
All models of the SDS1000CML+ series are equipped with 2 channels, a sample rate of 1 GSa/s, 2 Mpts memory, a 7" (17.78 cm) TFT color display, as well as intuitive measurement and mathematical functions.
The SDS1000CML+ series models are equipped with bandwidth-ranges of 100 and 150 MHz.
For advanced technical requirements in regards to bandwidth, channels and measuring/mathematic functions, we recommend the SDS2000X series.