Owon HDS - portable Oscilloscopes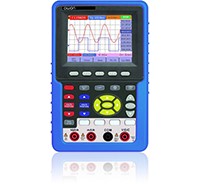 The Owon HDS series offers portable measuring equipment with bandwidth ranges up to 100 MHz. Additionally. The units contain a built-in multimeter option for measuring voltage, electrical current, resistance and capacities.

All models offer 2 channels, 6 kpts storage size, a 3.8" (9.6 cm) TFT color display, as well as intuitive measurement and mathematical functions.

The units are available in 3 bandwidth variants, ranging from 20 and 60 to 100 MHz.