HMO3000 Oscilloscopes by Rohde & Schwarz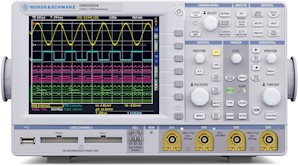 Systems that are constantly becoming faster and more complex lead to ever higher demands on the required measurement technology. The oscilloscope series R&S® HMO3000 offers the solution for current requirements in regards to bandwidth, sampling rate and memory depth. Its bandwidth of up to 500 MHz allows to set a new milestone in the development of high-performance mixedsignal oscilloscopes at an attractive price.

The 2- and 4-channel instruments provide bandwidths of 300, 400 and 500 MHz, a sampling rate of 4 GSa/s and a memory depth of 8 MPts. The instruments are rounded off with a standard inclusion of the MSO functionality and several options for serial bus analysis to meet all requirements of modern development designs.